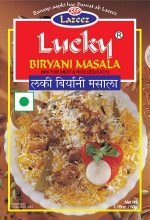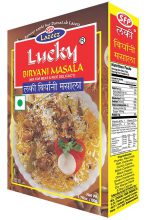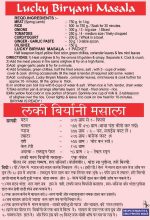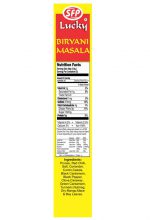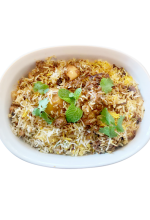 Biryani Masala
$2.25


Mutton Biryani is an aromatic, flavorful and mouthwatering dish popular not only in India but all around the globe. It belongs to Indian Mughlai cuisine. This delicious Indian dish is known for its succulent meat layered with long grain basmati rice. The layering of Mutton gravy with the rice makes it a complete dish, and it is enjoyed by every age group. Lucky Masale Biryani powder is the perfect blend of spices which gives an authentic, traditional taste to the dish. A few points about the Lucky Masale mutton Biryani Masala packet :
♦ Readymade spice mix for making chicken/mutton or goat biryani in few simple steps
♦ Easy to use & anyone can cook
♦ Low in Sodium/No MSG/No Artificial Color
♦ adds the best flavor to your chicken/mutton/goat biryani
♦ Net weight of the mutton Biryani Masala packet is 1.76oz/50g.